A couple of years back I purchased a pulse oximeter to monitor for hypoxia. Principally due to an experience with carbon monoxide and a broken exhaust manifold. Never thought to monitor at typical cruise altitudes... until yesterday.
Quick two hour flight up to Lake Erie islands for lunch taking advantage of nice weather. Cruising at 11,000 ft. settled in for an hour or so of cruise so I pulled out the flashlights, CO monitor, back up VHF radio and pulse oximeter and checked the batteries.
All was well until I tried the pulse oximeter. It read 74 (my typical on the ground here locally is 95). Right seat pilot had a reading slightly lower. Had to be wrong, right?
Take a look at this chart:
Attachment:
approach-to-hypoxemia-3-638.jpg [ 66.53 KiB | Viewed 7523 times ]
And we've all read about the recommendation to use oxygen at night above 5,000 ft.:
Attachment: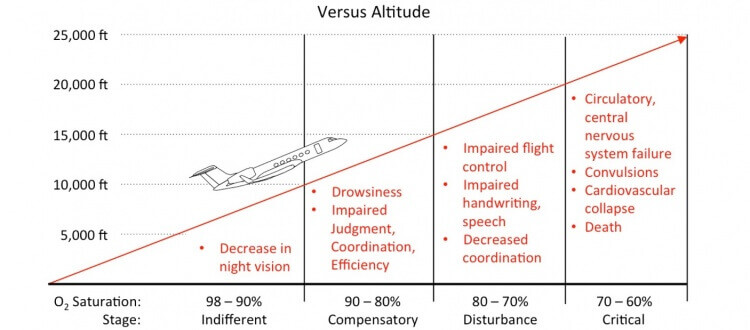 Hypoxia-chart-750x330.jpg [ 51.19 KiB | Viewed 7523 times ]
I routinely fly (without oxygen) in cruise between 9,000 - 11,000 ft. Less turbulence, traffic, higher TAS and better fuel economy. I'm rethinking that approach.